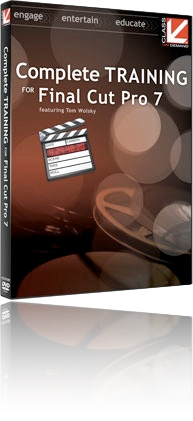 Tom Wolsky

2001-Present: Author, books and numerous articles for industry magazines, print and online, as well as Telly and Horizon Interactive award-winning DVD-based instruction.
2001-2014: Senior instructor in Final Cut Pro at the Digital Media Academy at Stanford University. Founding director of DMA. Apple Certified Advanced FCP trainer. Conducted trainings in schools and universities around the country in Final Cut Pro, Motion, Final Cut Express, and Video Journalism
2011-2012: FCP instructor for Dirck Halstead's Platypus Workshops on documentary production. 
2006 - 2010: Apple Education Professional Development
A contract employee with Apple, Inc. providing training around the country in Final Cut Pro, Final Cut Express, iLife, Podcasting, and iPod Touch classroom deployment
2006 - 2008: VP, Editorial, National Podcasting System
In charge of assessing clients goals and deploying appropriate technology within budgetary limitations. Content creation for corporate clients with video and audio podcasting, web and DVD delivery for their marketing, instructional and internal communications needs.
1992 - 2012: Producer/Director/Editor, South Coast Productions
A project facility for broadcast, corporate, training, commercials, and promotional video production.
1992 - 2003: Teacher, Mendocino High School ROP Video
A Regional Occupational Program providing video training for adults and high school students at Mendocino High School, a California Model Site for Technology in Education
Before 1992: ABC News, N.Y. and London
  New York: Editorial Producer for ABC's World News Now responsible for  planning and implementing production requirements for the broadcast.
  New York: Producer for ABC's World News This Morning and all news segments of Good Morning America in charge of planning and production. Returned to London to be coordinating producer for establishing Middle East coverage at the start of the Gulf War.
    London: Overseas Producer for World News This Morning and Good Morning America news segments. Responsible for all morning news reports from Europe, the  Middle East, Africa and occasionally  Asia, including live shows from major news events from the assassination of Indira Gandhi until the fall of the Berlin Wall.
  Operations Manager, ABC News London. Responsible for all facilities and international transmissions that passed through London including origination of ABC's  three city anchor format of World News Tonight.
    ABC News Production Staff including location producer for Presidential trips to Bonn and to Lagos, Nigeria, the Paris Bicentennial of the French Revolution, the Venice, Rome, and London summits, the historic Reagan-Gorbachev meeting in Geneva, and at NATO headquarters in Brussels. From Queen Elizabeth II Silver Jubilee through the wedding of Charles and Diana, in Teheran during the hostage crisis and coordinated from London the worldwide coverage of their release from Tehran to Athens to Algeria and Frankfurt.
London: Feature film script writer. Four scripts written including one filmed in South Africa with Trevor Howard and Gayle Hunnicut. Numerous treatments including  work for David Puttnam. Producer for children's television series, commercials,  documentaries and short subjects
London: Freelance Film Technician: Sound recordist, assistant cameraman,  assistant film editor and dubbing editor on dramas, documentaries and commercials
Education:
Apple certified Final Cut Pro trainer in all levels since 2002
London School of Film Technique, Diploma (First Class Honors)
University of Notre Dame, BA (Communications)
Photo by Olav Njaastad
Copyright © 2011 South Coast Productions