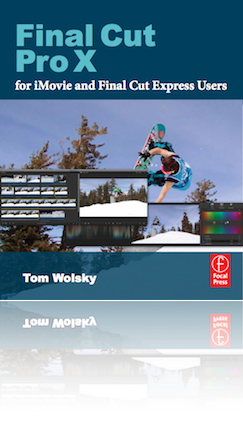 Final Cut Pro X for iMovie and Final Cut Express Users
For media for this book in the 10.1 and later Library bundle format please click here.
Please read the important notes below the media links.

If you have difficulty downloading these files please email me using the link at the bottom of the page. I seem to have best luck with Safari, which seems to be able to pick up from where it left off if the download is interrupted.

FCP1.sparseimage.zip 489.3MB
NO_NAME.sparseimage.zip 295.9MB
FCP2.sparseimage.zip 812.9MB
FCP3.sparseimage.zip 529MB
FCP4.sparseimage.zip 651.8MB
FCP5.sparseimage.zip 240.4MB
FCP6.sparseimage.zip 429.4MB
FCP7.sparseimage.zip 14.6MB
FCP8.sparseimage.zip 348.3MB
FCP9.spareseimage.zip 439.8MB
Apple has made a change to their application behavior in version 10.0.4 that effects all downloaded sparse images.
When the application detects the newly downloaded sparse image it brings up the following warning: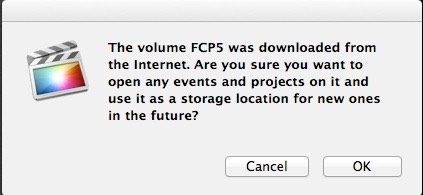 Click OK and the application will recognize the sparse image. This was broken in version 10.0.4, but has now been fixed in v10.0.5.
All of these projects and events were originally created using FCP 10.0.2, and have been updated subsequently, but are likely not in the most recent version. When you launch a newer version of the software, you will get a dialog box asking you to update the Projects and Events, to which you should click OK.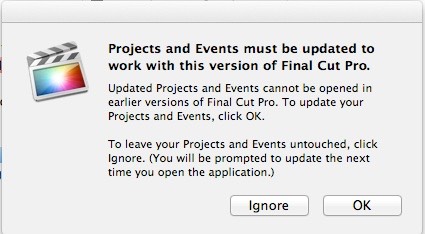 To get you started quickly with FCPX I have exerted a few pages from Lesson 2 of the book. You can find that exert here.
Copyright © 2011-2013 South Coast Productions